5 Father's Day DIY Gifts Dad Will Love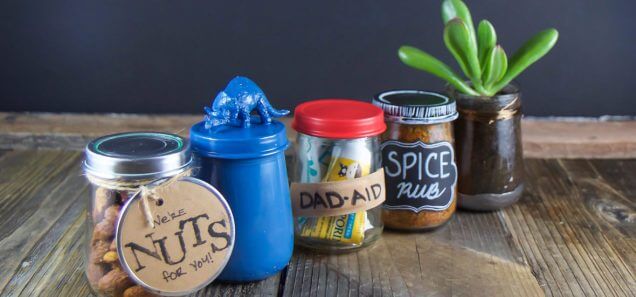 We typically have a pretty low-key Father's Day in our house, mostly because my husband's ideal way to spend the day revolves around eating and drinking (which I am all for). On his list for this Sunday, activities include:
Get a good cup of coffee at his favorite coffee shop (by himself!!)
Go on a family bike ride, preferably ending up a local brewery.
Crank up the grill, and cook some steaks for dinner with a side of homemade potato salad.
End the relaxing day with a pie from our neighborhood pie shop, topped with a big scoop of ice cream, of course.
So in lieu of regular gifts, I usually get him a growler of beer and a pie <———— which as you can tell is his idea of perfection.
But the girls and I always make a little homemade gift as well.
Something that we can all "help" make, that shows him just how much we care about him.
I had the girls help with making the nuts, mixing the spice rub, collecting their favorite objects for the time capsule and they both got to pick out the succulent. Depending on how old your kiddo(s) are, their involvement might be more or less. Even a little baby fingerprint on one of the jars is a sweet way for them to be involved.
This year, I am giving you five of my favorite easy-peasy gifts to make and give to your husband/dad, all using the cute Beech-Nut baby food jars.
We're NUTS For You!
This jar is by far the easiest of the group to make because most likely you will have everything you need to make it already in your house. I made these almonds super spicy so they will pair well with the beer I will buy my husband, but feel free to use whichever flavor of nuts your think your husband will prefer.
Nut Flavors
Instructions
Start by removing the label from the jar.
Make a batch of spiced almonds (or any nut of choice).
Let nuts cool and make the gift card. I used some of Ellie's letter stamps, but you can just handwrite or type out as well. Tie the car around the jar with a little twine or ribbon.
For the lid, I sanded off the paint on the Beech-nut lid, which did take some time. You can also just spray paint the lid silver or leave as is.
Time Capsule
This jar is the most sentimental of the bunch. The object is to have your kids (you will probably need to help with this if you have younger kids) find objects that remind them of their dad. Most likely they will put objects in there that they like, but that is also part of the fun. The key is to make sure dad doesn't open the jar for 5-10 years. I am making my husband wait 10 years, so by that time the girls will be teenagers (gulp!) and he can reminisce about how cute they were 'back in the day'.
Instructions
Start by removing the label from the jar.
My girls really wanted the dinosaur in the jar, but it didn't fit. So we compromised on gluing it to the lid. This part is optional but I think it gives it a fun twist. If using, glue dinosaur or any object to the lid with a heavy-duty craft glue. Let dry overnight.
Using any color of craft paint, pour roughly 1-2 tablespoons into jar and swirl around until the paint has covered the entire inside of the jar. Let dry overnight.
Paint the lid and dinosaur (this took me three applications to cover the wording on the lid). I found a semi-gloss paint works best for the lid.
After the paint inside the jar is completely dry, put the objects inside of the jar.
Close lid and either write on a piece of tape, a card or with a Sharpie the date your husband can open the jar.
Dad-Aid
My girls are ALWAYS hurting themselves when we are out at the park, the pool or really anywhere there is cement/rocks/dirt/fences. I always have to have a little baggie of Band-Aids in my purse just in case one of the girls falls and gets a bloody knee. The other day at the park, Parker fell and scraped her shin, then Ellie took her shoes off and stepped on a rock (more mental band-aid usage here) and then 2 of our little friends needed emergency band-aid as well. This jar is meant for dad to have in his car, just in case he needs to patch some little boo-boos up.
Instructions
Start by removing the label from the jar.
Paint the lid with craft paint or spray paint.
Add in Band-Aids and the smallest tube of ointment you can find.
Spice Rub for Dad
My husband loves a good steak! So making him an easy spice rub (which is also good on pork or chicken) was a no-brainer gift for me to make him. I just made one jar of spice rub, but if your husband is really into grilling, then feel free to take this idea and run with it – three jars of different spice rubs would be super cute (and yummy for you as well!).
Spice Rub Recipes
Instructions
Start by removing the label from the jar.
Paint the lid with craft paint or spray paint. I used a chalk board paint to match my label.
In a small bowl, mix the spice rub. Spoon the rub into the jar.
Place a label on the jar of what the spice rub is.
Relaxing Succulent Plant
This jar might seem a little out there for some dads, but my husband loves having succulent plants at his work desk. He says it relaxes him! I just think they are pretty and really really really hard to kill. So I am all too happy to make him a more 'manly' succulent container.
Instructions
Start by removing the label from the jar.
Paint a small portion of the bottom of the jar with a dark gray or gunmetal paint. I wanted some texture to mine, so I just dabbed on a thick coat with a small paint brush, let it dry and then dabbed on another coat.
Take a yard of thin copper or silver wire and twist around the top of the jar. I found that to help make the wire stay, I would wrap the wire around the jar, then twist the wire like a twist-tie before wrapping it around the jar again. Continue until you have used all of our wire.
Plant the succulent in the cactus dirt (you can find cactus dirt at any home improvement store) and water the dirt, not the succulent.
What are your plans for Father's Day? Tag us at @beechnutfoods and @babyfoode to show us how you made your husband's day!