Love At First Bite? Getting Real With Picky Eaters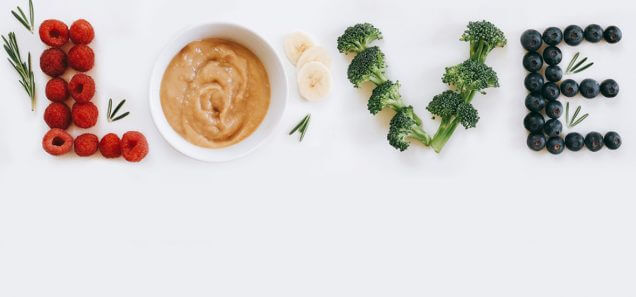 I don't recall having many food aversions when I was a child; not like my little girl who turns her nose to foods I deem necessary for the future of her palate. I turned to my mom for what to do. Her answer to this conundrum was short and simple, "Try, try again…but different."
This made perfect sense to me. I like to think I'm a healthy person, but I'll be honest — I'm not a fan of spinach. I have to mask the taste by putting it in smoothies or by layering it in lasagna. It works for me… so, why wouldn't it work for my kid?
Getting children to eat their fruits and vegetables can be tricky for health-conscious parents. Although it might take some creativity, there's always a way to please a picky eater.
Purée Surprise (4-12 months)
Introducing your young baby to new purées is one of the most exciting milestones for a new parent. We started with veggies (either fresh, Organic or Beech-Nut Naturals) — peas, yams, butternut squash, green beans, sweet potatoes and zucchini. She was very fond of all except the zucchini.
I wanted her to get the vitamins and minerals from this veggie, so I began pairing it with apple and pumpkin purée because I love my gramma's apple pumpkin muffins (with zucchini hidden inside).
Cut zucchini into small chunks and steam until soft. Purée in a blender, mix with Beech-Nut naturals Apple & Pumpkin and serve. She loves it!
Trail Mix Mashup (6-12 months)
As a snack, I like a good hearty trail mix. Since my baby girl can't have the same ingredients as me just yet, I make her a little trail mix mashup (with ingredients she might not eat on their own).
Ingredients
Peas (either fresh or thawed)
Garbanzo beans (peel off skins for a creamier texture)
Strawberry and beet organic grain puffs
Whole grain vanilla puffs
Blueberry and purple carrot teething wafers (broken up into bite-sized pieces)
I mix ingredients into a bowl and sprinkle them directly onto her high chair so she can grab with her fingers. It helps her with motor skill development while getting a taste for healthy foods. It's a win-win.
Blueberry-Pomegranate Popsicle (6+ months)
Adding vegetables — like kale or spinach — to healthy homemade snacks like popsicles is the ultimate way to conceal their "vegetable-y" taste. I get fresh, organic blueberries and kale from the farmers market. You can substitute any type of berry and green to play with the flavors and make them unique each time.
Ingredients
1 cup blueberries
½ cup kale
½ cup pure pomegranate juice
1 tablespoon coconut oil
Blend the ingredients to a smooth purée, pour into popsicle molds and freeze.
Pizza Faces (toddlers)
To get a picky toddler to eat her vegetables, focus on food presentation. Arrange food in a visually appealing pattern so she becomes enthusiastic about eating it. Kids (and adults) love pizza but they often pick off the veggies. Here is a simple and fun way to help your kids feel good about eating veggies. Babies can join in on the fun too, just be sure veggies are broken up into small pieces or are cooked to soft.
Ingredients
Whole grain flatbread
Part-skim shredded mozzarella cheese
Pizza sauce
Broccoli florets
Red and yellow peppers
Cherry or grape tomatoes
Olives
Arugula
Place cut veggies on sauced and cheesed pizza in the shape of a face or any arrangement that makes your child happy. Follow directions on the flatbread or pizza crust. Add arugula fresh after pizza has cooked.
Do you have any picky eater hidden gems to share? Share them in the comments below!