Mustache Jar for Dad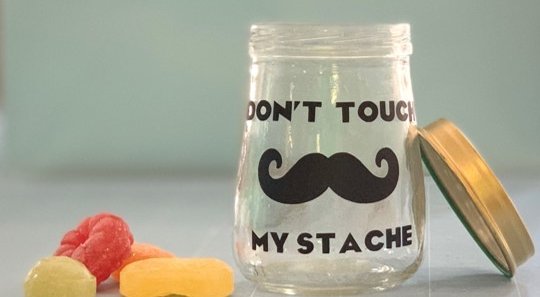 What you need:
Beech-Nut® Naturals puree jar
Cricut machine (or see work-around below)
Black vinyl paper
Transfer paper
Gold spray paint
Hard fruit candies (I ordered mine on Amazon: Cavendish & Harvey Fruit Candies Fruchtbonbons)
Instructions:
Remove label from Beech-Nut® jar by soaking the jar in warm, sudsy water, peel the label and use a mixture of baking soda and vegetable oil.
Spray paint lid with gold spray paint and let air dry.
Cut out vinyl letters that read "Don't Touch My Stache" using Cricut machine. I used Eaglebold Font, Size 20 on the Cricut machine. [Note: you can also print a regular sticker label using an Avery template, adhering to the jar, if you don't have a Cricut machine. The Avery label to use is the 2.5 inch round #22830, or you can choose plain printable sticker paper.
Use transfer paper to place vinyl letters onto your Beech-Nut® jar.
Fill jar with favorite candy, trail mix, coins, etc. Share with dad!