Springtime Glass Jar DIYs
Whenever spring rolls around, we love putting together fun arts and crafts for the family to work on to help add fresh ideas to your home and garden decor! These ideas come from Beech-Nut® Ambassador moms and mom bloggers, who have lots of creativity when it comes to #upcycling our glass baby food jars. Below are three ideas for spring DIYs; let us know what you think! And as always, tag us on Instagram @beechnutfoods to show us your work!
Beech-Nut® Bunny Vase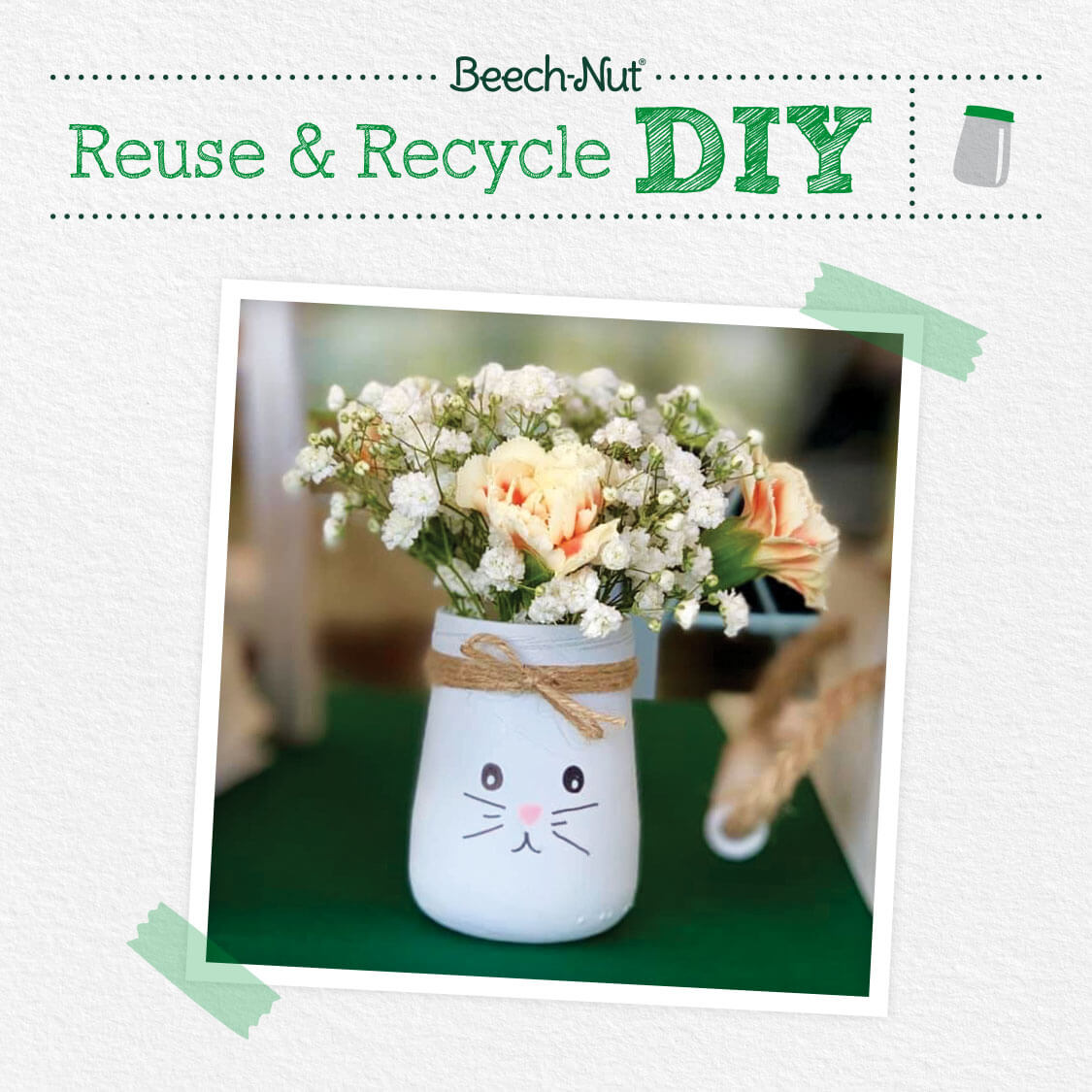 What you need:

White acrylic paint and paint brush
Sharpie black and pink markers
Hemp thread or ribbon
Some jellybeans to snack on while you wait for the paint to dry

What to do:

To peel the labels off our jars, fill a sink with your empty jars and cover with the hottest water possible. Pour in about half a box of baking soda, and leave overnight. Peel up the corner, and the labels should come off super easily!
Dry the jars and paint the outside with white paint. Let dry.
Draw on the bunny face using the permanent markers.
Add ribbon or hemp string for added decor, and then put flowers inside!
Idea credit: to our mom ambassador Becca Roberts
Earth Day Planter Jars
What you need:

Empty jars
Potting soil and assorted seeds
Toothpicks and permanent marker
Water & sunshine!

What to do:

This is a great DIY idea to do outside on the porch or at the park with kids. Give them empty jars and a small bag of potting soil, and then follow the instructions on your chosen seed packets to push seeds the right depth into each jar.
Top with a little water and add the popsicle stick to indicate the plant or veggie that's coming!
Idea credit: mom blogger Food Allergy P.I.
Kentucky Derby Decor
What you need:

Empty glass jars
Pink spray paint
White paper or white acrylic paint
Letter stickers in a shiny color like gold
Southern charm

What to do:

See tip above for removing the labels from our honeypot baby food jars!
Put down some newspaper to protect your workspace. Then spray paint the tops & sides of the jar lids with pink.
While you wait for those to dry, you can either paint the inside of the jars with white, or place a piece of white paper inside to create a shadow-box effect.
Place your letter stickers on the outside of the jars, spelling D-E-R-B-Y or another phrase.
Make yourself a mint julep to celebrate horse racing season! The Kentucky Derby is run on the first Saturday in May in Louisville, Kentucky. A great excuse for a party, if you ask us!
Idea credit: NerdBabesCo, our fabulous friend Carrie who has an #upcycling shop on Etsy!