back
Naturals banana Fruity Oat Bars™
Beech-Nut snacks are made with real food for babies. Natural banana adds just the right amount of sweetness to our updated take on the classic granola bar. With real fruit, whole grains and no added sugar, our Stage 4 Banana Beech-Nut Naturals Fruity Oat Bars™ are a go-to snack that's made with just 5 ingredients. This gluten-free bar is free from any major allergens, so it's school-safe as well.
Simple snack bar for babies and toddlers
Made with real fruit
Just 5 ingredients
Gluten-free
Included Inside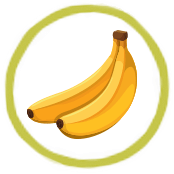 Bananas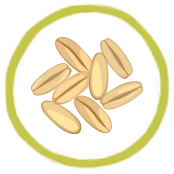 Oat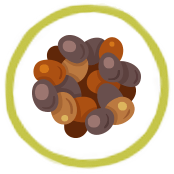 Raisins
Ingredients: Whole Grain Oats, Raisins, Dried Banana, Sunflower Oil, Dates.

For the most accurate and up-to-date product information, please always refer to the label on the package itself.
Made in a facility that processes tree nuts.
Wonderful Breakfast/Snack

My grand kid left some snacks while going back to his home. I usually don't want to throw food into trash, So I just ate one of Banana fruit bar. It's so good and it become my snack and at times breakfast also. You cant beat this.

Baby loves them!

My daugher goes crazy for these! She will ear these all day if I let her

Very tasty!!

We decided to give the snack bars a try since my son loved the baby jar food so much by Beech Nut. He took one bite and was constantly begging for more. We eat these daily and I don't feel bad for giving them to him. Very nutritious and he LOVES them.

Great snacks for little hands

I saw these in the grocery store and have them a try. My son loves them! I like that they aren't sticky like a normal granola bar and he finishes every last bite

Little one loved it

I saw these and had to give them a try because my little one is always after my granola bar. Well she loved it! Now she has her own healthy bars to eat!

Great snack

My son loved this! He is picky but this was enjoyed!

Not a fan

I received this as a free sample from Beech-Nut directly. My little one wasn't a fan. Maybe they were a bit too dry for him.

Response from Beech-Nut®:

Thanks for the review. Be sure to try out our Melties!

Love the ingredients but not big on the taste

I received this as a free sample from Beech-Nut directly. While I am super excited about the wholesome ingredient list, the bars seemed dry and crumbly. Maybe this is how the product is supposed to be. I wasn't a fan and neither was my 1 year old son.

Kids loved it!

I received a free sample and my kids loved it. I'll definitely buy these.

Nice on-the-go snack

My little one wasn't super fond of it, but my older kids ate them up like candy. Simple ingredients are really nice.
See More