back
Beech-Nut® beef + beef broth jar
For babies 4 months and up, this puree of beef and beef broth is a savory food that helps baby get much-needed protein. It has a smooth texture that's easy to eat for baby as a great first step in learning to eat solid foods. Stage 1 Beech-Nut® beef + beef broth is made with beef and beef broth; no added flavorings (no onion or garlic added) or artificial preservatives. Many parents tell us this blend is a favorite first food for babies who are starting solids.
Real beef and beef broth
Stage 1: for babies 4 months and up
Adds protein to baby's diet
No added seasonings
Caution: do not microwave jar; contents may splatter, causing burns
Formerly known as Beech-Nut® Classics, this jar now has a new look!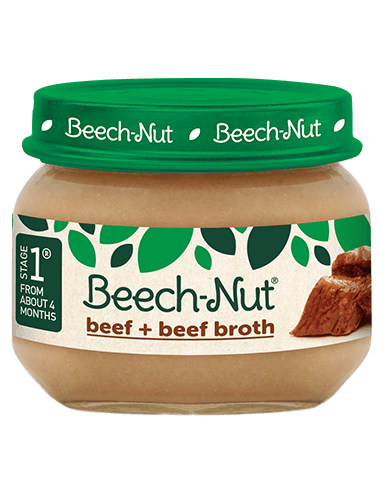 Included Inside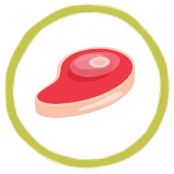 Beef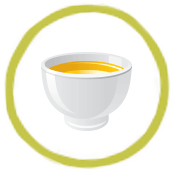 Broth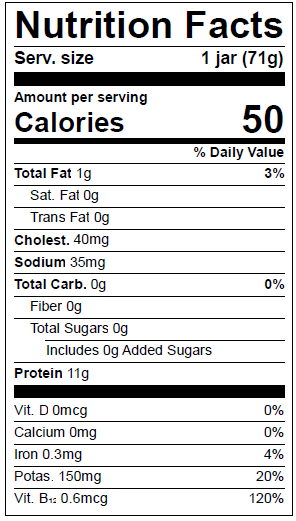 Ingredients: Beef, beef broth.

For the most accurate and up-to-date product information, please always refer to the label on the package itself.
Excellent customer service

I bought one of their beef products only to discover my child has an extremely rare allergy to beef. I initially left a review thinking the broth had additional ingredients (it does not). The company responded immediately so that they could diligently research to verify that nothing was wrong with the product itself, I assure any concerned parent there isnt. I am very happy with their response and will continue buying their products.

Absolutely horrible texture!

I have a 20 month old and a 6 month old. I have tried this on several different occasions with both children. Both of them absolutely love all of your fruits and veggies but they have spit this out every single time. I do the try it 10 times rule. 10 spoonfuls on 10 different occasions. The 20 month old still to this day will not eat it, not even in mashed potatoes or anything. My 6 mo the old is on his 3rd try. Hoping he chooses this over Gerber meats eventually.

Love the beef!

The flavor and texture of the beef is excellent. I eat this regularly with sea salt mixed in. Delicious! Best of all, there are no fillers!!

No Additives ?

Bought some beef jars and noticed some odd white powered substance on the surface when I opened two jars .Kind of looked like mold but it was not green .gerber brand uses corn starch and noticed it looked very similar.was wondering what it could have been ? do you use starch or any other ingredient ,

Great taste and ingredients!!!

I've been buying this for years. Not only did my kids eat it and like it, but I admittedly use it to mix with seasonings to make it taste like sausage gravy for my breakfast. Low calorie, high protein and awesome flavor without any junk!!! We go through 12 jars per week!!

Perfect size

As a first time mom I decided that my daughter should try everything once. So, with that being said, we tried out the beef & beef broth. It doesn't sound or taste good in my opinion but it's not for me. I gave it to my daughter and after about 3 bites she still didn't care for it. So, I mixed a little bit of carrots with it and she ate it. So, not too bad. I received this for free for my honest review.

Poor texture for stage 1

I have twin boys who just turned 6 months old. They've been trying every stage one fruit and veggie, but this is the first meat. I tried a small spoonful first (I always test my babies' foods to make sure they're safe). I thought it seemed a little gritty, but let my boys try it anyway. They've been enjoying solids since 5 months old, liking flavors and textures. Both of them immediately spit the beef out. I tried another spoonful, testing if they just needed to get used to it. Nope. Both spit it out, again. I believe it's too grainy/gritty to be classified as a first food, but maybe my boys didn't like it because it is their first meats. The flavor is majorly bland. I thank you for the sample jar, Beechnut, but I will not be buying this particular food for my babies.

Response from Beech-Nut®:

Hi there! We are so sorry the texture wasn't quite what you hoped it would be. We will definitely mention this to our quality assurance team! Thanks for your input :)

Great response

I just introduced this particular beef and beef broth baby food to my 7 month old and it was amazing to see his response. He absolutely loved it and can't wait to purchase more.

Taste just okay, smell bad!

I let my husband smell the product and he said it immediately reminded him of wet cat food smell.

Smells AWFUL

My baby has liked quite a few baby food flavors, but this one she was NOT a fan. It probably didn't help that it smelled worse than wet cat food. She made ugly faces and groaning noises the whole time we tried to feed it to her and after 7min we eventually gave up bc she was just storing it in her mouth. I don't think beef normally smells bad on it's own, so I'm not sure why it would smell so awful in this form.

Response from Beech-Nut®:

Our S1 Beef and Beef Broth may taste and smell bland but it's just what a baby needs when they first begin to eat meat. We'd love to spice it up and cook it on the grill like you would do with your steak but unfortunately a baby's palette isn't that sophisticated yet. Once you have ruled out any food allergies you can try mixing in some fruits or veggies to make feeding more enjoyable. We've also sent you an email to collect information from your jar so that we can take a look at that specific batch.
See More