back
multigrain cereal canister
When you start to wean your baby off breast milk or formula, it's important to supplement his or her diet with iron and other nutrients. This Stage 2 infant cereal is a great option for adding a solid food into baby's diet, as it's a hearty blend that will help fill baby's tummy. Beech-Nut® Multigrain Baby Cereal is made from a blend of wholesome grains including non-GMO whole wheat, oat, and rice flour. It has a creamy, easy-to-digest texture and provides baby with 45% daily value of iron. Comes in a portable canister where you can use the lid to measure and serve.
Non-GMO multigrain infant cereal
Stage 2: for babies 6 months and up
Fortified to provide 45% daily value of iron
Mix with breast milk, formula, or water
Included Inside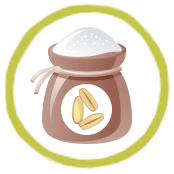 Oat Flour
Rice Flour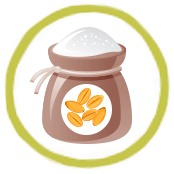 Wheat Flour
Ingredients: Whole grain wheat flour, whole grain oat flour, rice flour, sunflower lecithin Contains Wheat
Vitamins & Minerals: Tricalcium phosphate, ascorbic acid (Vitamin C), electrolytic iron, zinc sulfate, niacinamide (A B Vitamin), d-alpha-tocopheryl acetate (Vitamin E), calcium d-panothenate, riboflavin (Vitamin B2), thiamine mononitrate (Vitamin B1), pyridoxine hydrochloride (Vitamin B6), Vitamin A Palmitate, folic acid (A B Vitamin), biotin, cholecalciferol (Vitamin D3), cyanocobalamin (Vitamin B12).

For the most accurate and up-to-date product information, please always refer to the label on the package itself.
Loved it

With my first child all I used was the store brand multigrain cereal. After trying this I will definitely not ever go back. We love it. Everything about this is just amazing. Thank you for giving us the opportunity to try out a new product

My kids eat it!

I mix this with fruit and my kids eat it! They are very picky and I'm so happy that this one hits the spot!

Great Cereal

I mix this product with fruit for breakfast for my daughter and she loves it!
See More