back
naturals just green beans jar
The fresh, juicy crunch of crisp green beans ripened in the summer sun is a beautiful thing. To capture that beauty, Stage 1 Beech-Nut Naturals just green beans baby food blanches them to draw out their natural sweetness, then gently purées them for a delicious homemade taste and texture.
Stage 1 Baby Food Benefits:
Great first food for starting solids.
Simple flavors encourage a love of vegetables.
Just real vegetables. Nothing artificial added.
Included Inside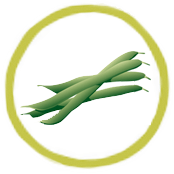 Green Beans
Ingredients: 100% green beans.

For the most accurate and up-to-date product information, please always refer to the label on the package itself.
Good Quality

I had tried other Beech-Nut products with my baby as we were introducing solids and I was already very pleased, but I was especially thrilled to find green beans in the "naturals" collection - it's great to know that what you're feeding your baby is exactly what you think it is, and my little dude gobbled these right up. I can't wait to introduce more Beech-Nut products as he grows older! I purchased this food with my own money and this review is my own.

Great first food to introduce to my son

My son loves beachnut stage 1 foods. We started with the natural green beans and went on from there. Great consistency. Love the fact that nothing artificial is added.