back
oatmeal cereal canister
Our whole-grain oatmeal infant cereal can be a perfect first food for baby, starting at about 4 months. Stage 1 Beech-Nut® Oatmeal Cereal is made with non-GMO oat flour to give your baby naturally occurring vitamins and minerals in a gentle, easy-to-digest cereal. It also provides 45% of baby's daily value of iron, an essential nutrient to support early brain development. You can mix this cereal with breast milk, formula, water, or Beech-Nut® baby food puree to create a soft food for baby that helps supplement their iron intake as you start solid foods. Beech-Nut® cereals come in a portable plastic canister, where you can use the lid to measure and mix.
Whole grain, non-GMO oatmeal cereal
Stage 1: for 4 months and up
Fortified with 45% daily value of iron
Mix with breast milk, formula, or water
Included Inside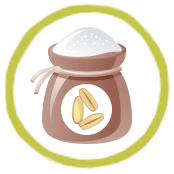 Oat Flour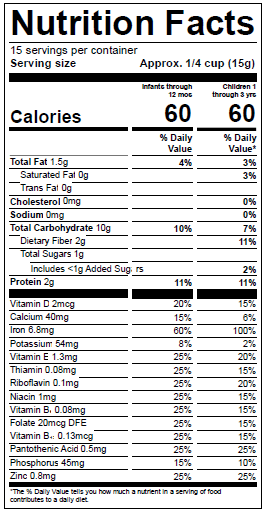 Ingredients: WHOLE GRAIN OAT FLOUR (CONTAINS WHEAT), SUNFLOWER LECITHIN. Contains Wheat
Vitamins & Minerals: TRICALCIUM PHOSPHATE, ELECTROLYTIC IRON, D-ALPHA-TOCOPHERYL ACETATE (VITAMIN E), ZINC SULFATE, NIACINAMIDE (A B VITAMIN), CALCIUM D-PANTOTHENATE, PYRIDOXINE HYDROCHLORIDE (VITAMIN B6), RIBOFLAVIN (VITAMIN B2), THIAMINE MONONITRATE (VITAMIN B1), FOLIC ACID (A B VITAMIN), CYANOCOBALAMIN (VITAMIN B12), CHOLECALCIFEROL (VITMAMIN D3).

For the most accurate and up-to-date product information, please always refer to the label on the package itself.
Baby loves this cereal!!

I love the texture of this cereal. Its so soft and blends very well with formula. Great price!

Baby likes it better then gerber

A couple weeks before I rescued this we tried the gerber rice cereal and my daughter spit it out and wouldn't eat it . When I got this we tried this oatmeal and she loved it didn't spit it out we just finished it today! I definitely recommend it . The ingredients are so much better for a baby I have decided to use this brand for now on!

Great cereal! All of them!

My son loves this brand of cereal. He eats a version of it every morning with some fruit mixed in. The oatmeal is his favorite. It tastes pretty good- I agree! :)

Absolutely love

I recived a sample for my baby and she loves it so much.

Baby loved this

So i have bought other brands and my baby has not liked them ... i tried this brand and she ate the entire bowl lol we like to mix in some beechnut baby food with it as well to give it that extra flavor

Best oatmeal out there

My almost two year old still asks for this oatmeal every morning for breakfast. It has so many vitamins and minerals that I'm glad he loves it!

Love it!!!

My daughter loves this cereal!! Will always buy beech nut products!!

Yum!

My son loves this. He just turned one and still gets it because he likes the flavor and texture and I like the nutritional value.

Cereal

I received a full size sample of the oatmeal cereal. Let's just say my daughter absolutely loves it! I switched her over from Gerber because not only does she love it, but it seems to fill her up better and doesn't make her gag as much. I would recommend this cereal to anyone!

Babies love it and so do we!

My twins absolutely love this cereal, they are happy to eat it alone or mixed with fruit, yogurt or even peanut butter! I love the real, simple ingredients that beachnut uses in their products! We're definitely a beachnut family ♥️
See More