back
oatmeal cereal canister
Treat your little one to our creamy and comforting Stage 1 Beech-Nut Oatmeal Baby Cereal. With a precise pour spout and measuring cap for convenience, oatmeal infant cereal makes feeding time easier for you both. Our cereal contains 45% of baby's daily value of iron, an essential nutrient for early brain development.
Stage 1 Baby Cereal Benefits:
Great first food for starting solids; you can mix with breast milk, formula, or water
Non-GMO Project Verified
Easy-pour spout and curved grip prevents spilling
Built-in measuring cap makes portioning a snap
Includes vitamins and minerals: 45% DV iron, 10% DV vitamin A, 20% DV vitamin D, 25% DV zinc, 20% DV calcium, 10% DV biotin
Included Inside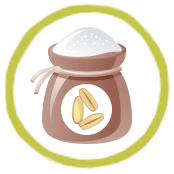 Oat Flour
Ingredients: whole grain oat flour, sunflower lecithin. Contains Wheat
Vitamins & Minerals: Tricalcium phosphate, ascorbic acid (Vitamin C), electrolytic iron, zinc sulfate, niacinamide (A B Vitamin), d-alpha-tocopheryl acetate (Vitamin E), calcium d-panothenate, riboflavin (Vitamin B2), thiamine mononitrate (Vitamin B1), pyridoxine hydrochloride (Vitamin B6), Vitamin A Palmitate, folic acid (A B Vitamin), biotin, cholecalciferol (Vitamin D3), cyanocobalamin (Vitamin B12).

For the most accurate and up-to-date product information, please always refer to the label on the package itself.
Best oatmeal cereal

I buy this oatmeal every week and my son loves it! I've tried many other brands and he seems to like this the best!

A Great First Product!

When we got the clearance from the pediatrician to start adding in solids, they recommended doing oatmeal over rice, and they recommended Beech-Nut products because of how well they dissolve and the ease on baby's tummy. I'm a fan, my baby has liked this over other brands, and he gobbles it right up. We never even tried rice cereal because we were so happy with this oatmeal.

He loves it

My son needed something more than just formula because he wasnt getting full and stayed hungry. I started putting this in with it and it has made a huge difference. My son gets full and it doesnt cause him to be constipated like others I have tried.

Love it!

My doctor recommended putting oatmeal in my daughters bottle for acid reflux. Shes pretty much been doing it since she was a week old and she loves this kind. We tried gerber and she wasnt a fan and it clumped up really bad. But this one doesn't at all. I would recommend this to anyone.

Love the container

I love the container with measuring cup. I do wish the measuring cup was a different color with better markings but it saves space and my girls love it!!!

My daughter loves this

My daughter has bad reflux so her Doctor said mix oatmeal cereal in her bottles. Tried other brands and she refused to drink it. But when I tried thiws, She loved it. Started it when she was 2 months. Shes now going on 4 months and is doing great.
See More