back
Organics oatmeal cereal canister
When you start to wean your baby off breast milk or formula, it's important to supplement his or her diet with iron and other nutrients. This Stage 1 organic infant cereal is a great option for adding a solid food into baby's diet, as it's a hearty blend that will help fill baby's tummy. Beech-Nut® Organics Oatmeal Baby Cereal is made with non-GMO oats. It has a creamy, easy-to-digest texture and provides baby with 60% daily value of iron, an essential nutrient that helps support early brain development. Try this cereal around 4 months. For a heartier cereal texture, try Organics Multigrain.
Non-GMO and organic oatmeal infant cereal
Stage 1: for babies 4 months and up
Fortified with 60% of baby's daily value of iron
Portable canister
Included Inside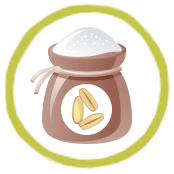 Oat Flour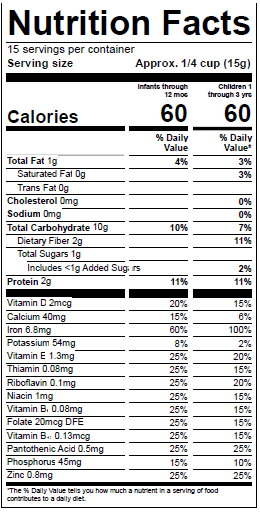 Ingredients: ORGANIC WHOLE GRAIN OAT FLOUR (CONTAINS WHEAT). Contains Wheat
Vitamins & Minerals: TRICALCIUM PHOSPHATE, ELECTROLYTIC IRON, D-ALPHA-TOCOPHERYL ACETATE (VITAMIN E), ZINC SULFATE, NIACINAMIDE (A B VITAMIN), CALCIUM D-PANTOTHENATE, PYRIDOXINE HYDROCHLORIDE (VITAMIN B6), RIBOFLAVIN (VITAMIN B2), THIAMINE MONONITRATE (VITAMIN B1), FOLIC ACID (A B VITAMIN), CYANOCOBALAMIN (VITAMIN B12), CHOLECALCIFEROL (VITMAMIN D3).

For the most accurate and up-to-date product information, please always refer to the label on the package itself.
Quality product, easy to travel with

We are on the go so having this easy-to-open can is perfect for baby. My girl is a little picky so she doesn't eat the oatmeal plain- I usually mix in mashed bananas or strawberries. But, she loves it like that and I love that this is organic and she eats it all up!

Great package

Loved the package features. Opens and closes with ease! Baby eats it like a champ too!

Great Oatmeal!

My 6 month old loves this cereal. He even eats it plain and he gets so excited when he sees me making it. I love the convenient pour spouts.

Organic and no rice!

We wanted to avoid rice cereals and were so happy to find this at our local grocery store!

Great Ingredients

Having an cereal made with organic ingredients with little to no added sugar or salt was really important to me. I tried the Beech-Nut Organic Oatmeal Cereal and my little girl (now 7 months) loves it! She has been eating it for the past two months and continued to eat more and more. Her favorite is when I make the Oatmeal Cereal and then add some Beech-Nut Organic Jar Bananas as some additional flavor. What a great product and I absolutely recommend to other parents!
See More