Fruity Frozen Purée Teething Hearts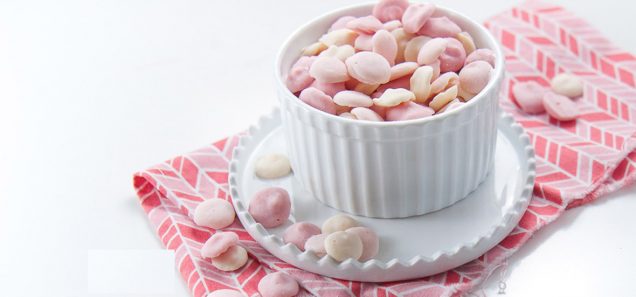 My 2-Ingredient Healthy Yogurt Melts are great for babies 8 months + as a cold refreshing treat, a gumming tool to help ease the pain of teething or for a quick yummy snack. Each melt has protein, probiotics and essential vitamins and minerals from colorful fruits and vegetables! These little drops of goodness are going to be your new favorite baby food recipe to make, especially since they can be prepped in only ten minutes!
To get started, I mixed up a little plain greek yogurt and a spoonful of colorful Beech-Nut purée. I picked 3 different pink purées so I could have a variety of pink melts for Valentine's Day, but any color or flavor will work. Then, I poured the greek yogurt into a baggie, snipped the end off and squeezed some drops of yogurt onto a baking sheet. After that, my work was done! The freezer did the rest of the work, and in just two hours my little ones had a fun and healthy treat.
If your toddler is over the age of one and looking for a sweeter treat, feel free to add a drizzle of honey in this recipe for an amazing dessert option.
I made 3 different batches of this recipe using 3 different purées, so I could get a variety of pink melts. I used Beech-Nut's beets, pear & pomegranate purée, guava, pear & strawberry purée and apple, strawberry & beets purée. Almost any homemade purée or purée from Beech-Nut will work for this recipe.
Ingredients
1/2 cup plain Greek yogurt
1 tablespoon of baby food purée
Add-Ins: For toddlers over the age of one, you can add a teaspoon of honey for a sweeter treat
Instructions
Line a baking sheet with parchment paper.
In a small bowl, mix together the greek yogurt and baby food purée until completely incorporated.
Spoon yogurt mixture into a resealable baggie (also piping bags or even reusable pouches work great here) and cut the very end of the bag off. At any point your yogurt blend becomes too thin or runny, simply put the baggie back into the fridge for a couple of minutes to harden.
Squirt small round dots into rows on the baking sheet. When the baking sheet is full, place it into the freezer for 2 hours or overnight to harden.
Pop the melts off of the parchment paper and store in airtight container. These treats melt rather quickly so it's best to only take out a couple at a time.
Yield: 1 cup of melts
Prep Time: 5-10 minutes
Freeze Time: 2+ hours
Storage: Air-tight container in freezer for up to 4 months
Age: About 8+ months and up