Healthy Toddler Trail Mix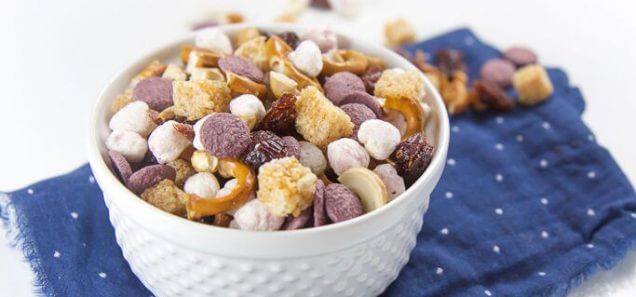 This Healthy Toddler Trail Mix is a fun on-the-go snack option that is made especially with toddlers in mind! Filled with protein, calcium, fiber and antioxidants these small bites of goodness are healthy and fun to eat!
Traditional trail mixes can be tough for toddlers to eat because they are usually filled entirely with nuts, pieces of dried fruit that are way too big and feature a ton of chocolate or candy add-ins. But this recipe was made with young toddlers in mind – chopped cashews, chopped craisins, crunched up pretzels, Beech-Nut vanilla quinoa crispies™, Beech-Nut blueberry puffs™ and my kids' favorite, the Beech-Nut banana, blueberry & green bean fruit and veggie melties™, all mix together for a toddler-friendly snack! A super simple recipe to toss together in less than 5-minutes that will make enough snacks on-the-go to last an entire week.
Ingredients:
1/4 cup or equal parts of the following:
**Note on Nuts – chopped cashews are my favorite nut for toddlers because of how soft and easy to chew they are but for a nut-free version of this trail mix you can simply omit the cashews completely.
Instructions:
Place all ingredients into a medium bowl and mix with your hands. This would also be a great activity for your toddler to help with.
Portion out the trail mix into baggies or reusable baggies (these are our favorite).
Enjoy!
Age: 12 months and up
Yield: 1 1/2 cups trail mix which is roughly 6-8 servings depending on how much you portion out
Storage: store in air-tight baggies or containers for up to one week