Strawberry Banana Smoothie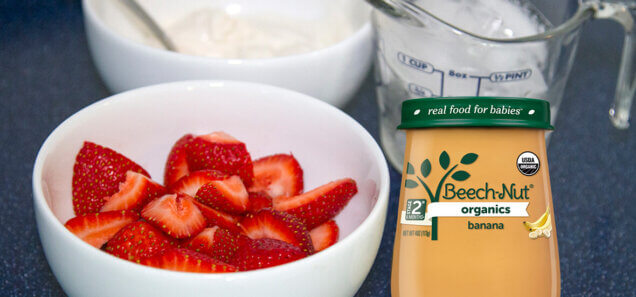 I have two small boys who are always on the go. I feel like I'm constantly working to make mealtimes more fun and interesting to get them to stay at the table long enough to eat. Sure, they love to eat healthy, fresh foods, but that's still no competition for zooming cars and playing chase.
Max, my 18-month-old, is obsessed with being just like his big brother, Jake. He hangs on his every word and action. And that includes everything he eats. If it passes the big brother test, there's a good chance Max will joyously eat it too.
Right now, with both of them into smoothies, I'm able to get them involved in making a healthy breakfast in the morning. I prep all the ingredients and then they help put them in the blender and watch it blend. Using Beech-Nut is one way to make sure they are getting great ingredients that I trust, while cutting down on the washing and chopping time. Even with them helping, it's still the morning rush!
You can get so creative with your smoothie making and include everything from Beech-Nut® Stage 2 Organics peas & spinach to Stage 1 Organics carrots. This Strawberry Banana Smoothie using Beech-Nut's Stage 2 Organics™ bananas is my personal favorite.
Strawberry Banana Smoothie
Ingredients:
1 jar of Beech-Nut® Stage 2 Organics™ bananas
1 ½ cups strawberries, washed and halved
Yogurt, about 6 ounces (Note: You can use plain yogurt or strawberry based on taste)
1 ½ cups of ice
Directions:
Place ingredients into the blender. Blend until smooth. Pour and enjoy!
The variations are endless and you can change it up to make sure that your children are getting a good variety of fruits and vegetables. Meanwhile, everyone will be all smiles while sipping on their fun smoothie!
Disclosure: This post was sponsored by Beech-Nut. All opinions and thoughts expressed come from Megan.