Beech-Nut offers countless food combinations to try with your baby, and What to Expect parents report that their kids consistently enjoy them.
Our Beech-Nut Baby Food won what to expect (WTEWE)'s 2023 "Best Baby Food Brand," as voted by 11,000 what to expect community members.
What to expect's editors compiled a list top-recommended & tested items per baby-feeding category, from breast pumps to high chairs, then polled parents on their "absolute favorite" baby feeding products.
Beech-Nut has been making simple baby food since 1931. They still make purees of non-GMO ingredients from vines and trees, cook them lightly to preserve nutrients, and pack them into recyclable glass jars.
Our Beech-Nut Naturals® line won BabyCenter's 2022 "best baby puree brand" food award as voted by BabyCenter parents.
BabyCenter is recognized as the largest digital parenting resource, reaching over 45 million users monthly. BabyCenter editors identify award contenders through user engagement and then survey real parents to determine winners.
The ingredients in Beech-Nut baby foods are simple, with no artificial additives. Plus, these little glass jars are available at most grocery stores, so they're easy to find.
Healthline Parenthood's team of medical experts, pediatricians, and parents awarded Beech-Nut Naturals® line "2022 Best Overall Baby Food," after a vetting process by their medical standards team.
Healthline consulted with a medical standards team, pediatricians, parents, available research, and used their own babies as taste testers to identify contenders. Healthline Networks is an online resource of health information with over 200 million readers per month.
---
Reviews
Our dedication to high-quality ingredients, rigorous testing, great textures & taste, and Gentle CookingTM technique is reflected in our highly-rated Beech-Nut baby food reviews written by parents & care-givers, submitted to us on this website.
(Counts & ratings as of June 2022):
To leave a review, or to read other reviews, visit beechnut.com/reviews
My baby loves it!
I bought all of the Stage One Jars and have been introducing single flavors to my baby. She loves all of the veggies and fruits.
– Jazmin, Chicago, IL
---
Scraping the jar clean
I bought this for my son and he's known as the picky AND active eater! Not only does he love this but he sits down and enjoys each spoonful. The consistency isn't watery like other foods and I feel like I'm helping him get used to the different food textures. Here in my house we love, love, LOVE Beechnut.
– theAAadventures, Mohegan Lake, NY
---
Great product!
My son is 5 mo old and we just started solids this week. I love that this is organic and only has only 1 ingredient! He gets so excited when it's meal time!
– Svan, Austin, TX
---
Perfect first veggie
My son just started solids and he enjoyed the green beans! His big sister is 8 and she even approved! She tried them because I told her I try everything prior to feeding just to be fun. We have been a beech nut family for many many years.
– Lana, Arizona
---
We are switching to Beech-Nut Products
I received a coupon from Pinchme to get 1 free Beech-nut Superblend. Before that, I already bought a jar of Beech-nut baby food for my little one to try, and he liked it!, even me when I tasted it I liked it. Then a free coupon came and I got the Beech-nut Superblends Banana chickpeas and kale. My baby likes this new baby food blends then I told my husband that starting from now we will switch to Beech-nut! And also told my sister-in-law to try these products for her baby boy because I am sure he's gonna like it.
– Anathalie, Texas
---
Glad my son likes prunes like I do
My sons couldn't get enough! I was wondering about the consistency, but since it was mixed with water, It was actually easy to feed him. It was more liquefied than the other Beech-Nut products we've tried, but I appreciated not having extra preservatives!
– HayRayCrow
---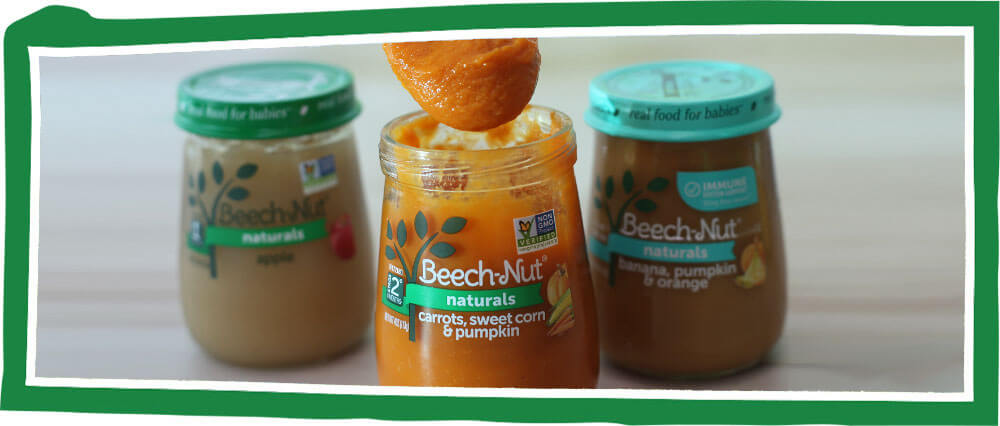 Our Gentle Cooking Process
The Gentle CookingTM puree process we use for our Organics & Naturals jars helps to preserve ingredients' nutrients, textures, colors and flavors.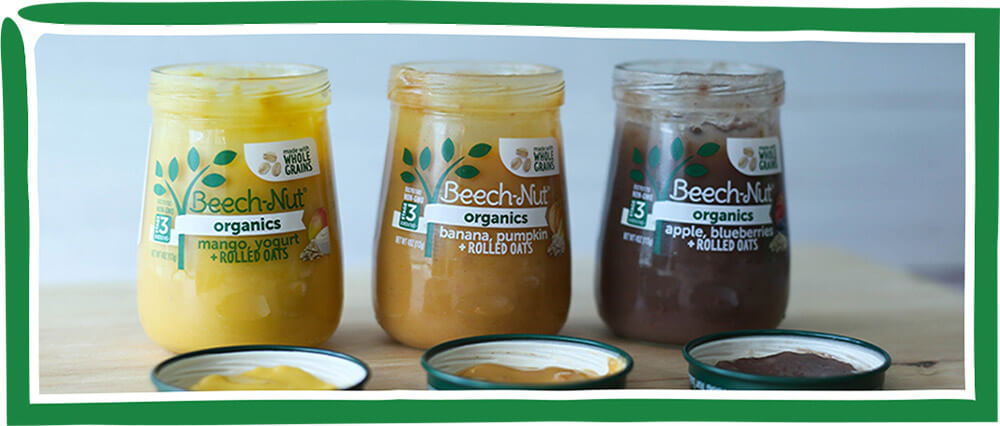 Organic Jars
Explore our USDA certified organic baby food jars that provide families with delicious and high-quality ingredients.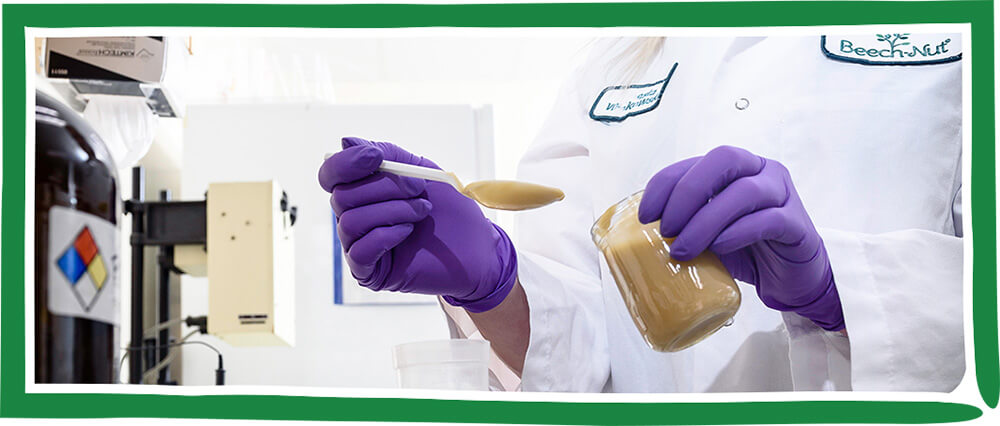 Testing & Auditing
Learn about our ingredient-testing procedures & advanced technologies.