back
golden corn cereal canister
UPC #052200034774
Beech-Nut Golden Corn (Maize) Baby Cereal is a great first food for babies starting solids. It has a creamy, easy-to-digest texture and provides baby with 60% daily value of Iron, 25% daily value of Zinc and 20% daily value of Vitamin D. Mix our infant cereal with breast milk, formula, water, or Beech-Nut baby food puree to create a hearty cereal that will help keep baby full. Beech-Nut Golden Corn Infant Cereal is gluten-free, rice-free and made with non-GMO corn and no added sweeteners or salt. This Stage 1 baby cereal is ideal for babies 4 months and up.
Stage 1 for babies around 4 months and up
Creamy, easy-to-digest texture for babies starting solids
Contains 60% recommended daily value of Iron
No artificial preservatives, colors or flavors and no added sweeteners or salt
Gluten-Free & Non-GMO (made with ingredients that are not genetically modified)
Single 8-oz canister
Still curious about corn? 🌽 We asked Melissa Rifkin, Registered Dietitian and owner of popular nutrition Instagram account, @ConfessionsofaDietitican, to explain this grain to parents.
WIC™ Eligible: In ID, IN, ME, MI, MO, TX, UT, VT, WI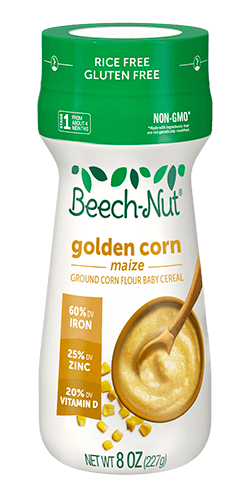 Included Inside
Corn Flour
Ingredients: Corn Flour, Sunflower Lecithin
Vitamins & Minerals: TRICALCIUM PHOSPHATE, ELECTROLYTIC IRON, D-ALPHA-TOCOPHERYL ACETATE (VITAMIN E), ZINC SULFATE, NIACINAMIDE (A B VITAMIN), CHOLECALCIFEROL (VITAMIN D3), CALCIUM D-PANTOTHENATE, PYRIDOXINE HYDROCHLORIDE (VITAMIN B6), RIBOFLAVIN (VITAMIN B2), THIAMINE MONONITRATE (VITAMIN B1), FOLIC ACID (A B VITAMIN), CYANOCOBALAMIN (VITAMIN B12).

For the most accurate and up-to-date product information, please always refer to the label on the package itself.